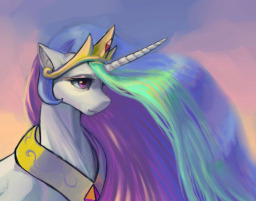 Source
Now has a sequel! Celestia Does Stuff in Ponyville While Other Things Happen Elsewhere
---
"Your Majesty!" "Your highness!" "My princess!" "My Sweet Goddess!"
These are all titles that Celestia has heard her little ponies call her. They hold her in the highest esteem, praising her for every little complement she gives them, and they look for her approval above all else.
Even her student Twilight treats her very highly, although that could be chalked up to a mother/daughter relationship. In fact, the only ones that don't treat her as a high and mighty, so-far-above-from-the-world-you-would-not-understand ruler were those not under her, and her sister.
Yes, everypony worships the very ground she treads upon.
And she is sick and tired of it.
With the help of her dear sister, Twilight and her friends, our beloved princess will seek out a way to put an end to the high level of praise that she has, Luna is jealous of, and Twilight is worried about receiving because of her status-- no matter how humble her subjects are to her.
---
The picture here seemed to get the premise of the story right. yes, sue me, I picked a picture to fit with the story, not a story for the picture. Please give the artist your full appreciation!
If you want to read the old and rejected chapters, consult this link [Clickey!]
Chapters (13)