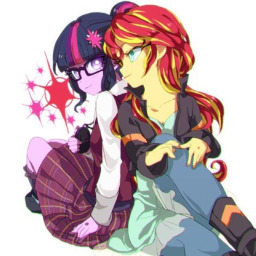 This story is a sequel to What one can't have?
---
Twilight comes through the portal into the CHS world to surprise her girlfriend Sunset Shimmer on her day off and finds the Friendship Games fully underway.
Her and Sunset must find the reason for the magic that's been popping up all over campus while also dealing with the other Twilight running amok for unknown reasons.
In this new story Twilight and Sunset will be tested on not only a physical level but their relationship will be strained as new and old faces appear.
If you are also feeling generous please consider donating to my new Patreon here.
Chapters (2)