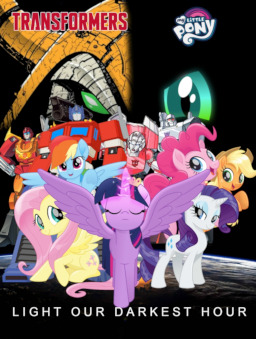 Source
A crossover between Transformers and MLP:FiM.
---
Equestria is in danger once again. Chrysalis, the exiled Changeling queen, has made a deal with a powerful being beyond all imagination: Unicron, The Chaos-Bringer; a terrifying being capable of consuming entire planets.
This unprecedented threat to Equestria's safety causes the Mane 6 to seek out the help of new allies: Optimus Prime and the Autobots. But will their combined might and heroism be enough to stop Chrysalis's rampage of vengeance, or will Equestria and Earth both fall to the horrors of Unicron?
Chapters (9)