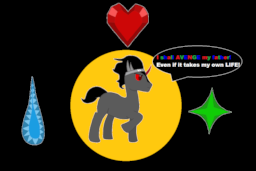 Source
Life. Death. Two clearly different things. Reality. Dreams. As different as light and darkness. But how different are they really? Sky Blue, orphaned middle child of the Blue family, needs to know. She's been having the same dream every night. But...
...suddenly, she stops dreaming altogether. She sees the shadow that haunted her for seven years... the shadow of her mother's killer.
Contains spoilers for season 6 finale, LoE, and some headcanons. Thou hast been warned.
Cover art designed by yours truly and RavenTheGhost. but mostly Raven.
PM me for the password... if you're Level 3 or higher, I'll tell you. (200+ Star Points)
(I might add more to the long description later, but the short one has 250 characters in it already.)
Chapters (5)