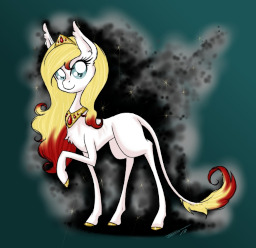 Source
This story is a sequel to Brothers
---
What do you do when an insane, homicidal maniac with godlike powers descends upon your life with the sole intent of ending it?
What do you do when you were the one responsible for the aforementioned sadist's creation?
It has been almost a year since the events of "Brothers," and Eclipse Tumult has finally adjusted to life in Equestria. Being Discord's weaker brother hasn't done him any favors, but he has finally begun to come out of his shell, even taking on a student of his own and adopting a role with the Princesses who took him in. Life seems to have finally turned around for Eclipse, and it can only get better from here.
At least, that was was they thought until Eris, an ancient evil of his past with Discord, returns to Equestria, bent on destroying the entire civilization for her own amusement, starting at its heart: the Canterlot Royalty.
The fate of Equestria lies in the hooves of the Princesses, Eclipse, and their faithful students as they fight their greatest enemy yet. Can they survive, or will chaos prevail?
*This story is actually a sequel to several my other stories, "Brothers," "Whipstitch," and "Penn and Stone: Dynamic Duo." However, every character will be explained in a manner allowing the reader to read this story without that background. HOWEVER, I strongly recommend reading them beforehand.
ALL the art for this story has been drawn by Gina, from I AM PONY, my magnificent illustrator, partner, and friend.*
Chapters (8)