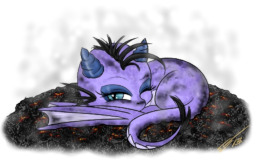 This story is a sequel to Happy Adventuring, Twilight!
---
Two months after bringing the changelings to Canterlot, Princess Luna calls Pennington Inkwell and his assistant back to Equestria. A new threat has come to Equestria: a deranged dragon with the ability to control the weather. Taking the opportunity to atone for his past actions, Penn and Moonstone leap into action, setting out to find the attacker and stop them. Little do they know that they'll be delving into secrets far more dangerous than wandering unprotected through dragon country.
Meanwhile, Twilight Sparkle and Calalily Curl meet a strange pony who seems to know more than he ought to about Pennington's past. On his word, the three set out to save Pennington from an unknown traitor waiting to spring a trap on him. But is Delta Raider to be trusted?
A Sequel to "Happy Adventuring, Twilight!" and Part 2 of the Happy Adventuring Saga.
Chapters (43)