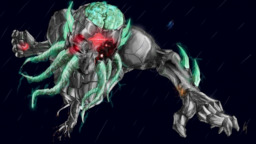 Legends... beings, events, or places that are incredibly well known and historic for battles, deadly endings, or unnatural phenomenon...
... and yet they are all proven to be true, one way or another.
However, Equestria, nor Equis, for that matter, is ready for the newest living legend...
Who is this legend, you ask?
(Chuckles darkly...) YoU'lL hAvE tO sEe FoR yOuRsElF, wOn'T yOu?
((Note: Listen to "God Syndrome" by Madame Macabre and put it on repeat while reading.))
Chapters (6)