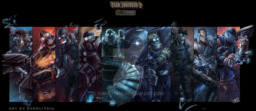 Source
Medics are usually depicted as your best friend on the battlefield. They care for the sick, the dying, and the injured. They stay back from the action to avoid dying, and they are the most useful in wars.
Well, for this Medic, most of that isn't true.
Meet the Medic Bot, a German Robot that does not care for the sick and dying, does not stay away from the action, and is the enemy's worst frickin' nightmare.
Why?
Because Fuck you, that's why!
((Note, this is Anime MLP, not just anthro MLP.))
Chapters (3)