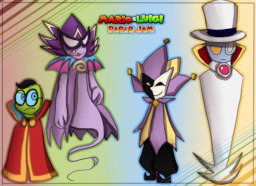 Source
Antasma...
Fawful...
Dimentio...
Lord Blumiere/Count Bleck...
Four villains, four poor, confused as all hell humans, one convention that they should have never gone to, and one new planet...
What could possibly go wrong!?
Probably everything... Well, if they play their cards, right, that is.
Meet the four humans-turned-Mario-Villains. Adam Atamans, now Antasma, Iggy Indomite, now Dimentio, Faux Faw, now Fawful, and finally, Corban Cromswell, now Lord Blumeire/Count Bleck.
After buying missing items from their outfits from a particularly shady merchant (Antasma's bat bow, Fawful's glasses, Dimentio's gloves, and Blumiere's/Bleck's monocle), they were sent to the world of Equestria. Oddly enough, only two of them are bronies (but they have forgotten/are really frickin' good at pretending that they don't know)... the other two don't know what in the name of the Underwhere is going on.
Follow them on their adventure to see what trouble they get into!
Chapters (5)