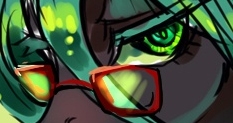 Arta Factia, architect. Designing edifices is what she loves to do most. But architectural work isn't always steady.
Finding a job posting in the classifieds that is right up her alley, she applies for the position...only to be abducted by her new employer.
It isn't only archiving that she's wanted for. They want her love, too.
-----
Cover art is a detail of SoukiTsubasa's 'Chrysalis of artist style' (Derpibooru #6209)
Sex tag for suggestive themes.
Chapters (9)