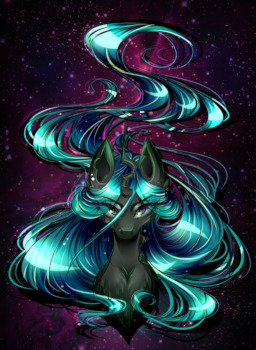 Source
Dr. Tarnished Relic, a little known archaeologist, makes a rather astonishing discovery while exploring the Equestrian badlands: an ancient shrine, possibly predating all recorded history. Upon the shrine he discovers and awakens a creature unknown to ponykind. The creature, dubbing herself 'Chrysalis', reveals her purpose: to change one and all into the 'True Shape'.
In the process, she will turn everything the ponies of Equestria know about their origins on its head.
-----
Alternate Universe fic. All depictions of Chrysalis from the show and comic (aside from her appearance, of course) are disregarded.
Cover art by Minamikoboyasy (Chrysalis in spaaaaaaaaaaaaace!)
Chapters (8)