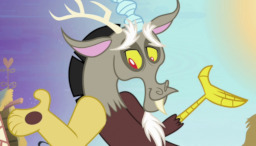 Discord Day...
Just a term bronies in the human world use to describe the random day of February 29th, or an actual holiday in Equestria courtesy of a certain meddling master of chaos who has decided to insist on the public recognition he so richly deserves?
Why can't both be true?

Read what happens as Discord attempts to explain to the princesses of the sun and moon his logic behind just creating a new day and night for the year (and without permission, no less). How, oh how, will the spirit of chaos talk his way out of this one?
And Happy Discord Day, everypony!
Chapters (1)