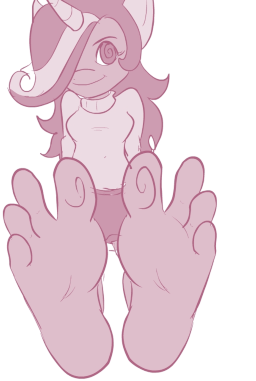 Source
Swirly Toes is a unicorn with a special talent: she's very good at hypnosis. That is to say, a certain kind of hypnosis, befitting a mare of her particular tastes. A certain kind of hypnosis that allows to fully enjoy her personal love, while spreading the joy of that love to the uninitiated.
In short, Swirly Toes has hypnotic feet.
Her goal is simple and wonderful: she wants all of Equestria to join her in barefooted bliss! Can Twilight and her friends stop her, or will she free the ponies from the tyranny of shoes?
Obviously, a foot fetish fic.
Swirly Toes belongs to Zuneycat, used with permission
Chapters (1)