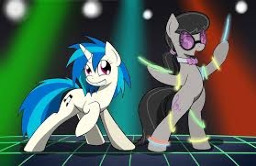 Octavia is enjoying a boring evening when she hears that her favorite musician is coming to town for a party. You either have to be invited, be somepony's plus one, or pay a fee of 200 bits. Octavia has none of that, so her not-so-helpful friends have a better idea.
Crash the party!
In this story, I'm taking a break from a few stereotypes on Vinyl and Octavia (as well as a few other characters) and writing Octavia with a little less common sense and more of a crushing slob. Vinyl, well, she'll be interesting to say the least.
There is a good amount of a building romance, but it doesn't drown out the story or development of characters, and trust me, there is much more development happening in this story, not like my last one where we jumped like three chapters to the end. I've learned my lesson

Rated teen for language and booze!
Chapters (15)