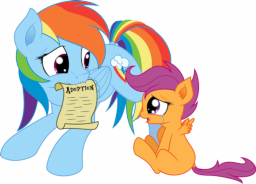 Okay so I decided that I will do a Scootadopt first instead of a SoarinDash scootadopt right out the gate.
Scootaloo is once again an orphan, for the third time, after a fire kills her adoptive father she begins to loose hope that she will ever be happy. But she soon finds there really is a pot of gold at the end of a rainbow.
Ya, I know that last bit was cheese. Any way, this is going to be very sad so viewer discretion is advised. It should also give you allot of feels.
To sum this up; Scootaloo's third father is killed, she gets bullied, she gets depressed, Rainbow realizes her true feelings for scootaloo, RD adopts scootaloo as her daughter promising to care for her no matter what, and it has a happy ending. (sorta...)
Named after the song American Noise by Skillet
Editor: Rainboom H Harmonia
Chapters (1)