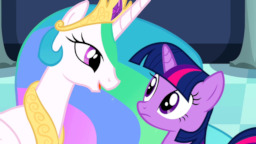 Ponies: They come in Earth, Pegasus, Unicorn. There are many roles for these ponies; Earth ponies tend to the land and grow crops, Pegasi tend to the skies and control the weather, Unicorns run the government and handle the magic.
What gives them these abilities? Why, magic does of course. Magic adds to this equine anatomy to give it the abilities it possesses. Magic allows the earth ponies to tend to the land, allows the pegasi to fly and control weather, and allows unicorns to do that glowing magical horn thing whenever they're too lazy to accomplish anything with their own two hooves.
---
Over the years, Twilight has learned a lot about magic and how to use it, even becoming an alicorn due to her great progress! But, she finds that the magic that makes ponies special in the individual ways they are have a great deal with how they work. In more ways than one, actually.
---
Trigger Warnings: Magical Reproduction That Happens By Rainbows. No actual sex happens, but...you'd be surprised at what the alternative is.
Chapters (1)