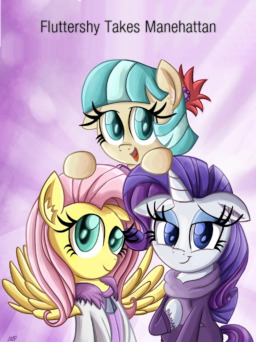 Source
Coco Pommel arrives in Ponyville with a problem, and there's only one pony that can help: Fluttershy. Rarity and Fluttershy travel back with her to Manehattan to prepare for her fashion show.
This story is a gift for yellowstripedflutterbat whom I've been following since I first joined this site, and whom I wish would write more horse words.
Cover based on artwork by Daniel-SG (used with permission). Thanks to PoisonClaw, Enclave2277, Miss Spectrum, Bookish Delight, and the inimitable Phoebe for pre-reading the story and offering advice.
Chapters (2)