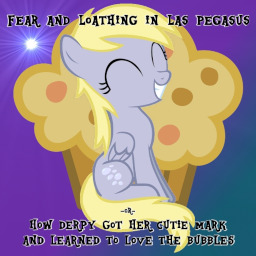 -OR-
How Derpy Got her Cutie Mark and Learned to Love the Bubbles
My alternative headcanon for Derpy - perhaps she's not "a few sandwiches short of a picnic" like we all thought! There's not much actual fear in the story. And no loathing at all. Misleading title — sorry.
WARNING: Muffins!
This was written as flash fiction. Flash fiction is traditionally under 1000 words, but this site places a 1000 word minimum length on stories, so I've also included an epilogue, which fills out Derpy's story even more. (The epilogue can be seen as an optional extra - each chapter can be read as standalone story.)
The cover image uses this picture of filly Derpy and this muffin. Much thanks to all those people who create such beautiful pony art and give others the freedom to remix it. You are gems!
Chapters (2)