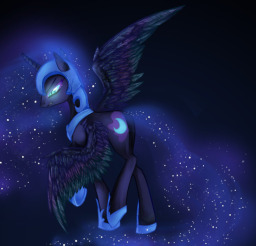 Source
[Prototype 2/MLP crossover]
After a number of years, Nightmare Moon has returned and was able to make her own body, instead of finding a host. However, the process cost her most of her power, and she knew that, if she were to get it back before being discovered, she needed to get herself a familiar.
However, things don't go quite as planned, as the ritual end up costing her wings, and she gets quite a willful familiar. Over the next few days, she is forced to admit that her ultimate wish is that ponies liked her night, and through that her, by forcing them to experience it. With this relevation, she is faced with a new goal of getting the ponies to like her, which will be a even harder task.
Luckily (or perhaps unluckily) her familiar is there to help, with his intimidating visage, abrasive personality, and willingness to brutalize anyone needed.
AN: This is my first time.
Also, it has been pointed out to me that I should probably get a Editor. So anyone willing, the position is open.
Chapters (4)