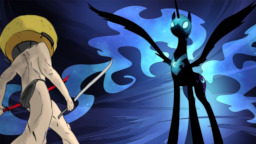 Twilight didn't expect she would get to know anypony in Ponyville, let alone travel with them through one of the most dangerous forests in Equestria to fight a supercharged alicorn in an abandoned castle.
What she REALLY didn't expect was that she wasn't going to be the one fighting.
I did not draw any of the art that is on the cover. I only photoshopped Let Me Solo Her into the image.

p.s. writing this has given me aids.

p.p.s. Thanks for getting this on to trending, I like watching numbers go up.
Chapters (1)