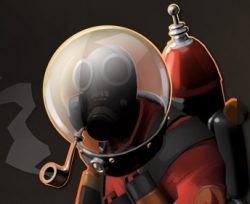 Part 1: Lyra's Pyro Predicament
Part 2: Twilight's Demoman Devastation
Part 3: King Sombra's Robotic Retaliation
When a mishap causes two para-dimensional weapons to colide with one another, RED Team's Pyro is sent flying from the Team Fortress 2 universe into the alternate universe of My Little Pony, where he is almost instantly discovered by Lyra, who shelters him in her home.
Having him hidden in her small townhouse isn't easy; keeping him from setting things on fire, teaching him that not every cart that passes by is cause for alarm, and that blue ponies are not something to be suspicious of.
However, with Nightmare Night soon approaching, Princess Luna feels that there may be something more sinister riding on the coat tails of Pyro's grand entrance; the first human to ever set foot in Equestria some thousand years ago...
Chapters (10)