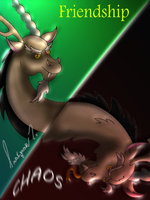 Source
Discord has been reformed. He no longer has the desire to take over Equestria. But thanks to a backfired potion, Equestria will soon remember what's it like to live in disharmony. Can the Mane Six triumph over this tyranny without the Elements, or will Equestria be plunged into eternal chaos?
This story is just a random idea that popped into my head. If you don't like it, I will delete it. Just please don't take all your hate out on me.


Also, the Other Tag is for the many other characters in this story.
Chapters (8)