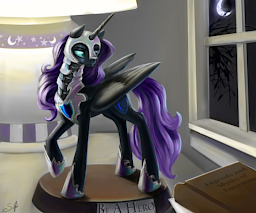 She was once the harbinger of nightmares, the bringer of eternal night. It has now been fifteen years since the failed plan to bring back Nightmare Moon and overthrow the royal sisters. Fifteen years since Equestria gained a new ally.
Now, with Equestria struggling through a prolonged war with the zebras, the mare who was once known as Nightmare Moon must walk the delicate balance between protecting the ponies she loves and losing her hard-fought identity.
Faced with a mysterious and brutal threat to Equestria, how will Nyx stand against a powerful new adversary who knows her better than she knows herself? What fate awaits her behind the dark secrets of an alicorn's true nature?
Be sure to check out the story's FAQ for important facts about this story that you'll need to know to get the most out of it. Also, come join the Nyx² group for news, project updates, or just to chat about this expansive universe!
Many thanks to Pen Stroke for creating such an amazing character and backstory for Nyx! You've inspired me more than you could possibly know.
Note: While some elements of this story were inspired by Kkat's tremendous work, Fallout: Equestria, this story is not, in any way, a part of the Fo:E narrative. This is a completely independent universe.
Commissioned cover art by SilFoe
Editor credit (in order of their original participation) goes to:
onlyanorthernsong, for his excellent feedback and dedication since day-one, helping to keep Nyx in-character and general characterization, consistency, and plausibility advice.
TundraStanza for meticulous grammar corrections and for tirelessly re-reading to make sure it's perfect.
Pawz, for quality editing and making sure that I stay focused and relevant. Thanks for all that help with tricky plot-logistics problems, consistency, and some pretty creative ideas.
Bashfluff, for pushing me to be a better writer than I ever imagined I could. While Bash is no longer with us, he deserves my unending gratitude for the months of coaching. I'd likely still be a novice without him.
DuvetofReason, for some awesome encouragement, ideas, insight, and analysis of the overall story that has helped me out of quite a few tight spots.
Questionable, for his sharp understanding of the deeper story mechanics and his ability to point out any flaws or potential problems, no matter how minor.
Pen Stroke, who has recently joined the development team. Welcome aboard, Pen! I'm sure this will be fun. Looking forward to your insights as the story develops.
OrionWolf, who has a particular gift in breathing life into a setting with his imaginative world-building details.
Thanks as well to Interloper, PrinceUniversa, Alchemystudent, and several others for reviews and prereading along the way.
Chapters (8)