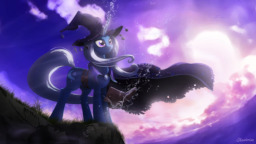 Source
Trixie grows tired of searching for her place in the world. It is time to put aside her pretending as a powerful magician that she isn't.
In the depths of the Everfree forest she stumbles on something extraordinary that will change her life forever.
Just want to thank Bad Dragon for looking over and editing the first chapter. It was much appreciated.
Author's Note: I'll be releasing chapters for it monthly since I need time to write the chapters well.
Chapters (1)