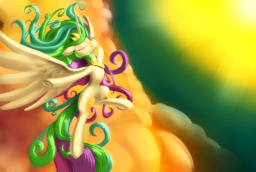 Source
Celestia raises the sun every day, but it never gets boring. Not by a long shot.
This was a collab fic done by Fantasia Archsage (me) and Pump It Up a great friend of mine. Man, I really felt great doing this one.
Also, this fic has been edited by Xhoral1865, Hothead 112, and Jake The Dog. I know, Jake The Dog from Adventure Time, so freaking awesome! Anyhow, thank you all for reading this, please go give these people some follows and enjoy the story.
Chapters (1)