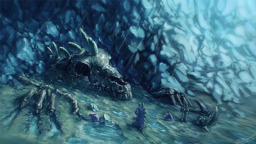 Source
Spike will finally get to know "the truth" about his origin.
This fic was a collab between myself and TheOriginalThundersky. I want to thank him/her for help me out and working with me on the idea of this story, and helping me to finish it.
I also want to give a huge thanks to spideremblembrony for his fantastic work of proofreading, editing, and helping me smoothen out the whole story.
Give them both much love because I feel the deserve it for helping me with this story.
This story was worked on for a number of weeks on and off between days. But I'm happy with the results and hope you guys would enjoy the read as well.
This story has been featured!
The cover art used in the story was made by AssasinMonkey Enjoy everyone.
Chapters (1)