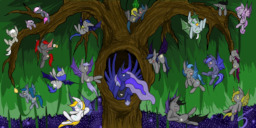 Source
Princess Celestia regrettably banishes Princess Luna to the moon for a thousand years. The princess of the sun laments over her sister's children, allows them to share in Luna's punishment, and curses her two closest followers.
Over the course of a thousand years, the ancient race of bat-ponies flourish in the secluded woods of Hollow Shades, developing their own culture and traditions.
Luna's banishment comes to an end. She goes to visit the bat-ponies in their forest, and discovers something amazing.
Coverart by http://silverkunai.tumblr.com/
Chapters (2)