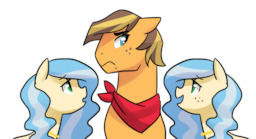 Source
Culture shock is the personal disorientation a person may feel when experiencing an unfamiliar way of life due to immigration or a visit to a new country, a move between social environments, or simply travel to another type of life.
Golden Delicious is a simple pony. The son of Applejack and Caramel, his destiny in life had already been decided for him: To be an apple farmer just like his mother, just like nearly every other pony in the Apple clan. But he's happy with his life. Life in Ponyville was simple, fun, and happy. So just what happens when two mares from Manehatten who have a different view come to visit?
A story with Kilala97's character's with her permission. Golden Delicious and Red June belong to her.
Inky Melody and Staged Gallery are my ponies.
Read the other stories in Kilala97's AU here.
Chapters (1)