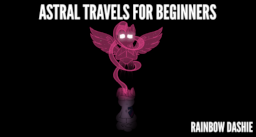 Source
Book Two in The Rainb0w Mythos
Astral Projection is a forbidden magical subject available only to ascended Alicorns such as the Celestial Sisters. However, Twilight sparkle manages to find a book on the very subject while perusing a rather peculiar bookstore in Manehattan.
Being the curious intellectual she is, Twilight begins to experiment with this clandestine magic and ends up becoming separated from her body and must find a way to traverse the astral realms to find a way to return.
Links:
- If you like this story, consider supporting me on Patreon so I can bring you more content in the future!
- Join the Club Awesome Discord Channel to hang out with Rainb0w!
Credits:
Chapter 1:
Chapters (2)