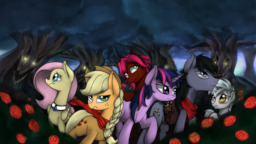 Source
As featured on Equestria Daily, Canterlot's Finest and Las Pegasus Tribune's Fiction Illumination.
Rated Teen due to limited violence. Currently undergoing revisions.
Inspired by a piece of artwork by Jaaaaaaaz, and Stephen King's magnum opus "The Dark Tower," what follows is an alternate telling of a familiar tale.
For one-thousand years, Princess Celestia has fought a war of attrition against the armies of the Red, but now the rules are about to change, and Celestia must rely on her sheltered prized pupil and a living remnant of a secret order she once believed lost forever.
The one-thousandth anniversary of the Summer Sun Celebration is approaching, a time when Twilight Sparkle believes Equestria's worst nightmare will finally be realised. While she strives to warn the kingdom of impending disaster, the peace of Canterlot is thrown further into disarray by the arrival of an earth pony carrying totems of fierce power, and an even more terrible legacy.
Darker mysteries from Canterlot's past bubble to the surface, as Twilight spins headlong towards a destiny that will mean their salvation, or their damnation.
And the Tower is closer...
New cover art by marking.
Chapters (13)