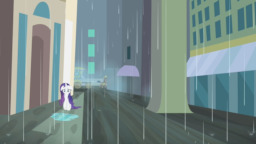 "The world is full of Kings and Queens,
Who'll blind your eyes and steal your dreams,
It's Heaven and Hell!"
Rarity writes about her first ever visit to Manehattan, A bustling community and a glorious metropolis of generosity, and recants a story of struggle, hardship, woe, and torment.
No matter what Rarity chose to do in life, the time she spent in Manehattan changed her, and she writes her experiences in her friends' friendship journal to server as a warning: No matter what your intentions or goals are, you should never trust Manehattan.
Credits:
Story inspired by EQD's "Rarity takes Manehattan" writing prompt, System of a Down's Lost in Hollywood, and the Heaven and Hell song of the same name.
Parts of Rarity's monologue sampled from the description of the city of Tarbean in The Name of the Wind
Chapters (2)