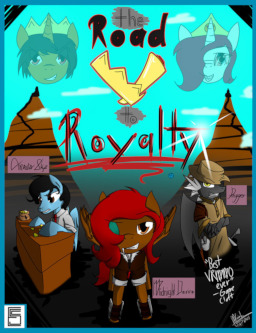 Source
Welcome to the Road to Royalty.
A Virtual Reality Massively Multi-player Online Game.
Exploring this expansive world , a race to true royalty was announced.
Join our main character and his team on his quest for riches and fame.
Will he make it on this dangerous road? will he get the mare he needs?
will bad luck stop stalking him... probably not, his misfortune is our paradise.
--------
A/N
Editor-
Minette
Proof readers-(thank them for the smooth read)
Tidaka
The Great and powerful Game Fic cover Artist for the front cover.'' (go shower Maiah with praise)
The Maiah
The Spike support of a Back Cover was Provided by
Sakura
world building awayyy / oc cameos expected.
------
Want to hear the fanfic reading? listen to it here.
Back Cover Click to take a look
------
Feeling like u need some more awesome mmo action. then hit that link below to our Rival/Sister game company. The main 6 go on epic adventures.
Equestrian Earth
Join that nice looking group below an submit an OC or RP up to you.
Chapters (3)