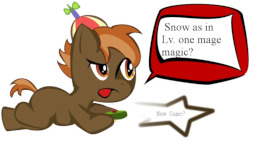 These slash warning things are useful.
// Twist has her lisp //
It's Time for the Snowy Level, every game has one.
The digital plane is so inviting, the outside so harsh.
Button Mash has a thing for the digital.
Twist wants to play outside.
Let's see how this goes.
Game Start.
--------
A/N
-entered in a group contest-
Want to hear the fanfic reading? watch it here.
Thank the editor and proof.
Editor- no really Thank them.
Minette
Proof readers-
Tidaka
Chapters (1)