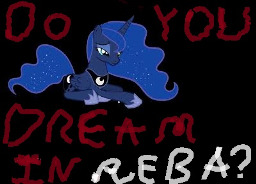 How blessed are the lives of the dead. They exist solely to present the blissful peace of rest eternal.
Rest is my most prized commodity, now. I suppose that means the dead are rich fools; forsooth, they are rich, for they have great wealths in rest. Yet, they are fools for remaining dead. Perhaps death makes fools of us all.
For, when in Reba, there is no rest.
* * * * * * * * * * * * * * * * * * * * *
My name is Princess Luna. I am having trouble adjusting to the new world. Hardly anypony knows me, those that do are afraid of me. I don't blame them. I've done horrible things in my immortal life. But I won't surrender, not to him. I won't surrender to the Runemaster.
How do you know when your thoughts are your own? The mysterious Runemaster, a pony who takes control of the minds of first Applejack then Celestia herself, certainly won't tell you. Luna had better have a plan to deal with the Runemaster, dissidents, and her own dark memories.
Prereading by FreezeFlame
Proofreading by Rowan
Chapters (8)