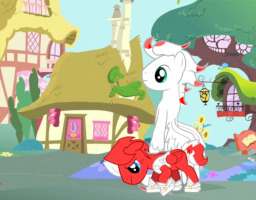 Mathew, or rather White Wind, has returned home, after going to Equestria. The memories he has made have been forced to the back of his mind as the life he originaly left, becomes his again. But what happens when he returns to Equestria, and with his son none the less? Will he be able to live with the one he thought didn't care about him? Will he be able to satisfy his son with the new life? Many questions are raised, even more to come about. The answers, might not be as clear as hoped.
Sequel to "The New Beginning" (read first for background (Important for understanding a few things)
Please up-vote if you liked the story, and/or also comment on it to let me know what you think.
Chapters (20)