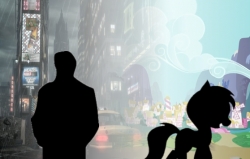 Robert Parker is a 24 year old ex-web developer living in New York city. In the wake of the conversion movement, he has seemingly lost everything. Haunted by the same nightmare every night, he soon realizes that he must make a choice.
To those unfamiliar with the Conversion Bureau: it is a scenario created by an author named blaze in which Ponies either appear in the human world or have lived beside humans without incident for millennia. One day, in the face of all the damage humanity has done to its world, the ponies offer a solution: undergo conversion to become a pony and allow the world to be inundated with Equestria's influence: thus healing it and bring forth a golden age.
Many different authors have taken many different approaches to this idea, all of them are worth checking out.
http://www.ponychan.net/chan/fic/res/53616.html (The current thread)
http://www.equestriadaily.com/2011/04/conversion-bureau-compilation.html (The compilation post on EQDaily. *NOT UPDATED*)
Chapters (7)