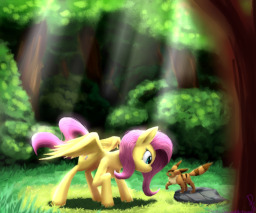 Fox squirrels are frisky little creatures. Ferocious too, as Fluttershy will come to find out. However, like many of Equestria's own little critters, they react best to kindness.
Kindness is what Fluttershy needs the most now, too. Dark machinations are at work, and she's become trapped in a foreign land where there are very few things familiar to her. Lost and frightened, she will travel these worlds, fraught with perils and dangers that seem to be never ending; hoping to one day find a way home.
---
Credited Authors : Cold Spike, FormlessDream
---
So, a quick author's note. This story is entirely from Fluttershy's perspective. It also runs parallel (as in it happens at the same time as) to the other stories in "The Madverse". Those stories are, A Twilight Landing, My Little Marriage, Abhorsen, as well as The Mane Two : Contrail, started by Alex Nuage, and currently being written by Ludicrous Lycan. I've written this story here with people unfamiliar to the crossover's source material in mind, so approaching this with an open mind is all you need to enjoy the story. I hope you all enjoy traveling with Fluttershy through this strange, strange world, whether you are familiar with its mysteries or not.

The story crosses over with Studio Ghibli's works, here's their Home Page! www.studioghibli.net
I really can't thank them enough for getting to use this art! Thank you Tyr!
---
Author's Note
For anypony asking themselves 'why' I chose to crossover for a large piece of these crazy stories, the answer's simple. I had considered that some may not buy into this, but I felt that using established work would add credence and a solid foundation to work from. In other words, that the stories would benefit from a pre-established fantasy setting, rather than one I just made up for the purpose of this series of fics. I can't really say if it was the right decision, but at least you can know that I didn't just throw the rest of the mane six into a sloppily made world rather than one created by professionals. (I honestly doubt I could make something as fascinating as this.) With that said, please enjoy.
Chapters (10)