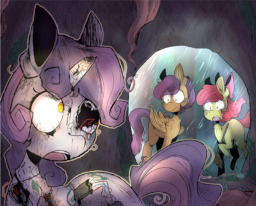 "Sweetie, Are ya okay? Ah took a medical kit if ya need help?" Apple Bloom said as Sweetie kept totally still, the pair in front of her making no move to enter the small cave.
"Please do not harm this unit." The voice was distorted, damage to the vocal box giving a metallic tang to the request. Both Bloom and subject 2 jumped back from the entrance, their eyes wide at the distorted voice.
"S-Sweetie?" Apple Bloom stammered, reaching for the shotgun strapped to her barrel. Sweetie pressed herself a little deeper into her hiding place.
>Updating survival odds: 37%
"Please do not harm this unit." Sweetie tried again, various subsystems starting to simulate the most optimal way to fight in her current state.
"H-Hey Sweetie, t-that's you, right?" subject two asked, sounding even more terrified than Apple Bloom.
A small Sweetie Bot story I had in the back of my mind and have occasionally dotted down things for for the last 9 months. Hopefully a fun read!
Chapters (6)