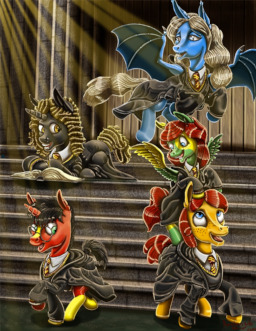 This story is a sequel to If Wishes were Ponies . . . .
---
Harry Potter and the CMC have somehow managed to survive their first year at Hogwarts. Equestria has met Earth, and both are astonished at what they've discovered. The Muggles think Equus is a planet from another galaxy, or dimension. The Wizards all think that Equestria is Atlantis. The evidence for both groups appears conclusive. The changelings haven't been idle, though. And neither has been Tom Riddle and his supporters.
Wow, hit Featured on the first day, 12/08/20, and lasted until the 12th! Yeah, Ch. 1-4! Looks like Ch. 5 put it back for a short time. Ch. 6 lasted an hour on Featured. Ch.s 7-present lasted at least 2, and as many as 5 hours! (Except Ch 29, on Memorial Day -- no show)
Art work by: Mix-up. You can find him at DeviantArt, or his Youtube Channel.
Chapters (50)