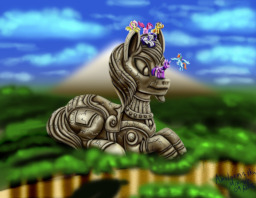 A giant mysterious machine/statue is discovered on a remote and deserted island that used to have a thriving civilization. Twilight and the other five Elements have been dispatched to uncover its secrets. The statue does something, but WHAT? After all, nobody goes to the trouble of building an extremely complex piece of equipment that does nothing . . . do they?
Excellent cover art by Mix-up. Also on Deviant Art.
Yeah! Made it to Popular Stories lists on the 17th and 19th-21st, and on Featured Stories for three days (17th-19th)!
Published on the FiMfiction website with the kind forbearance of the copyright owners of My Little Pony (Hasbro).
Chapters (1)