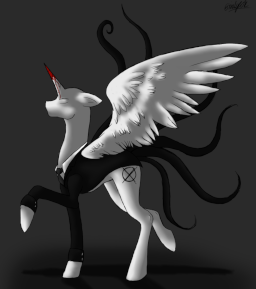 This is about two kingdoms from Equestria past and how the Slendermane came to be.
An the war that is between these two kingdoms. The royal families of the two kingdoms, one them is from the Kingdom of Night and the other royal family is from the Starlight Kingdom.
Prince Midnight mane from the Night kingdom and princess Starlight was from the Starlight kingdom. By some twisted fate met and fell in love they thought that they would be together forever. But as fate would have it a Tragedy struck..... Prince Midnight mane's former lover Moonbeam read the story and see what happened then and what will happen next.
Chapters (9)