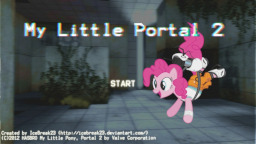 Source
Sequel to My Little Portal- Friendship is Science.
Fluttershy is the last of the mane six, and before she dies, she hears something terrible. A new place called Celestial Science is being built in Canterlot. Such a shame the mane six wont be there to stop it.
Wheatley now has to help the mares who were once the Cutie Mark Crusaders escape, or help them get revenge.
Chapters (5)