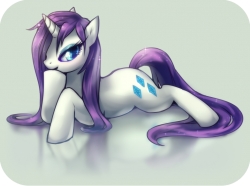 Twilight's spell to return Dashie and her friends back to Equestria failed! Now Rarity is lost and alone in the human world. She worries about her friends, not knowing if they made it back to Equestria or not. But first she must fend for herself in the human world, lucky for her she finds a human friend to protect her. the story takes place from rarity's human friend's perspective. Rarity makes a huge impact on the life of her human friend, but will she make it back to Equestria?
You could say this story takes place in the same "Universe" as "My Little Dashie."
The ponies seemingly teleported back to Equestria at the end of My Little Dashie, but what if the spell actually failed, and the ponies were merely sent elsewhere in the human world?
Hoping to make a story like this for each of the mane six
------------------
Cover image is by Kawiko:
http://browse.deviantart.com/?q=rarity&order=9&offset=144#/d4kd28c
Chapters (4)