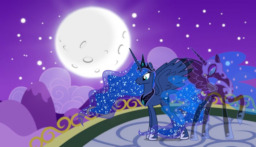 Luna always wanted her night to be enjoyed, but unfortunately, her sister always stole the spotlight, making her night avoided and ignored for many years, even after her return as princess of the night.
When Celestia gives them the idea of ​​retiring, Luna agrees at first, but after reflecting on her decision to retire, she changes her mind and decides to remain on the throne, resulting in her being the ruler and solo princess of Equestria.
Now, after a day full of real duties, she watches the stars to reflect, and even receives a visit from her other self to talk about the future of Equestria.
Now, I know that Twilight is the ruler of Equestria and the Royal Sisters retire, but the MLP staff left room for fans decide for ourselfs if it's canon or not The Last Problem, so I thought, "why not write a story where Luna changes her mind and does not retire and Twilight remains the handmare of the school of friendship?" So, I decided to write this story for everyone who didn't like the idea of ​​Luna having retired and would like Luna to have a better future without being retired. So please, don't give dislike and don't read this story if you don't like the idea of ​​Luna being the solo princess or an alternative version for the last episode.
Chapters (1)