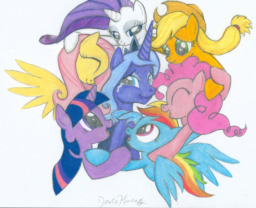 Source
It has been a few days since Luna was released from Nightmare Moon by the Elements of Harmony, and Luna has been feeling lonely for thinking that her subjects would not forgive her after everything she did after her return to Equestria as Nightmare Moon.
Celestia, noticing the sadness and guilt that Luna has been feeling these past few days, she decides to tell Luna to spend an afternoon with Twilight and her friends to feel better.
Can the Mane Six show Luna that she is no longer alone as she believes?
Chapters (1)