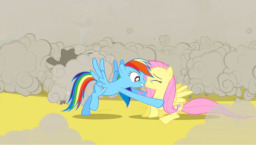 During the Mane 6's battle against the changelings Rarity witnesses a moment between two of her friends that implies that they are more than just friends, and after the royal Canterlot wedding draws to a close, decides to inform the other members of the Mane 6. Disagreements arise as the four pony's debate on both the reason for this moment between two of their friends and whether it actually occurred at all and so they begin to discuss their own interpretations of the event Rarity believes she saw.
In this fanfic there are hints of TwiPie, mentions of SpArity, and both hints and mentions of FlutterDash.
I do not - nor do I claim to - own any characters or artwork I use in this story - they belong to their respective series and owners.
If you enjoyed Open to Interpretation then I suggest you also read its companion story, Snuggles and Nibbles by NintendoGal55.
Chapters (1)