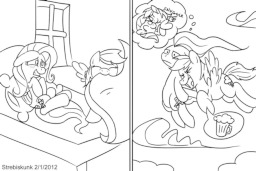 Fluttershy often dreams of being able to cuddle up with the pony who means more to her than a friend. When said crush comes barging through the window one very early morning, is her wish about to come true? FlutterDash.
While this is not my first fanfic this is my first time uploading one to this site and so, if there are any errors regarding the structure then it is more than likely due to my unfamiliarity with this site and its uploading system. Although this is my first Friendship is Magic fanfic I welcome any and all criticism, which will make me just as happy to receive as it would praise.
The method of writing this short story involves connecting various fan arts and creating a narrative which involves each one of them. As such I wish to credit the artworks of DiegoTan's 'Rainbow Dash n Fluttershy hug', Strebiskunk's 'Bedshy' (which also serves as the cover image), Miokomata's 'Gotcha' and 'Best night ever', Haileyguilford's 'Morning', Juicy Cactus's 'Your real Christmas present', and Fajeh's 'Flutterdash' as sources of inspiration for this fanfic.
I do not - nor do I claim to - own any characters or artwork I use in this story - they belong to their respective series and owners.
Chapters (4)