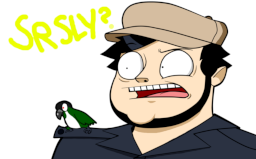 They say that there is a level of terribleness that, once attained can destroy anyone who dares to observe it. That level of awful was thought to be just a legend, but like bigfoot, the Loch Ness monster and Bill O'rielly, some legends really are true. Enter the show simply known as "Birdemic: Broadway", and although it sold a grand total of two tickets and critics universally labeled it as "an earnest show", its existence is a scar on human history we shan't soon forget, or maybe we will, I dunno.
Despite His prior knowledge of birdemic's bad reputation Jonathan P. Jafari and his bird Jacques made the foolish mistake of purchasing tickets to the show, forever sealing his fate. A mere ten minutes into the show, Jon suffered from a case of spontaneous exploding sending both him and Jacques to the magical land of Equestria. Now armed only with his wit, a bird and a game-boy color Jon must find a way home.
Will Jon make it home? Will Jacques finish that show he was working on? Will Egoraptor ever get to be player 1? I dunno, google that shit.
Rated teen for language
Chapters (2)