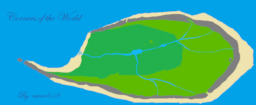 The continent of Deradia. The only land in an endless sea. Despite it's loneliness, it is a vast land covered by rich forests, high mountains, and populated by ten distinct races of creatures.
Join Twilight on her adventure across this land. Solving puzzles, making friends, fighting monsters (maybe), and exploring all the corners of the earth.
This is a choose-your-own-adventure story, so you the reader may have the opportunity to affect the course of the story. The stories tags and rating will be changed and updated as the story progresses.
Chapters (1)