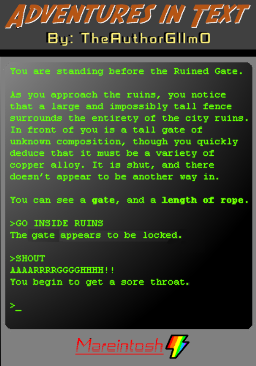 It's no secret that Rainbow Dash is a huge fan of everypony's favorite explorer, Daring Do. But could there possibly be anything more awesome than the many books in the series?
One day, Twilight discovers an old copy of the Infocolt text adventure, "Daring Do & The Search for the Emerald Equine" in the Library's storage room, and, knowing the extents of Rainbow Dash's love for the Daring Do series, she gives it to the pegasus to play on her old Mareintosh computer for a while.
But how will Rainbow fare in the lost world of interactive text adventures? Will she fall victim to the dreaded "unwinnable scenario"? Or will Rainbow Dash actually succeed in the most 'hooves-on book' she's ever read?
...And what about her friends? When there aren't any strategy guides to reach for, will they be willing to help Rainbow during the many pitfalls on her virtual journey through oceans of text? And will she ever stop playing and just take a break?!
---
On-hiatus until further notice, unfortunately.
Chapters (4)